TweetANet
managed by Maria and Emmanuel Z.
About us
TweetANet is an initiative of a group of United Nations Online Volunteers assisting several villages in Uganda through the online volunteering platform Nabuur (www.nabuur.com). In the run-off to World Malaria Day, between 1 and 25 April we are aiming at raising 1000 mosquito nets for the children of three villages nearby the Lake Victoria, Wakitaka, Jinja East and Mawoito through various social networks such as twitter and facebook. One of the partner organisations is Wakitaka Youth Development Group who participates actively in the poject.
Latest project news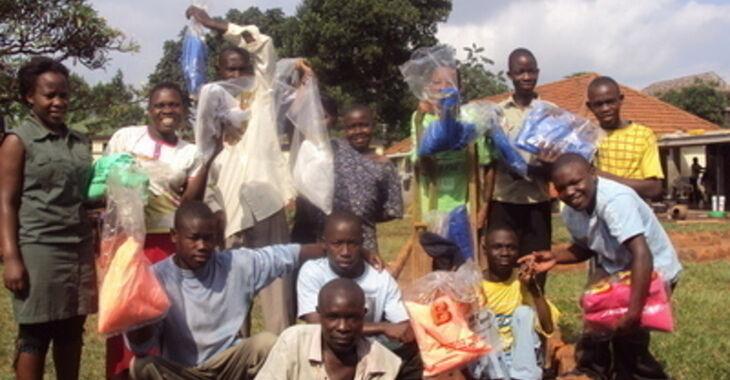 Distribution of mosquito nets in Uganda
Dear sponsors,
You helped to raise funds for mosquito nets for three villages in Uganda. After some problems with tranferring the funds to Uganda, the nets finally arrived in the three villages. You made a huge difference in the lives of more than 400 people - orphans, pregnant women, babys and people with special needs. Thank you so much for your support!
In each village 130 nets were distributed. In Wakitaka 50 nets were added through a separate donation.
In Wakitaka, the community was trained in various ways of controlling  malaria such as; proper use of treated mosquito nets, clearing possible habitats for mosquitoes like broken pots, and containers among others. They were also given a comparative analysis between the use of preventive measures and purchase of drugs to curb malaria since in other areas of the country, some people at times use them to fish, make table mats, ventilation nets etc. During the training, questions were also posed to the community. This encouraged interaction between the trainer (i.e. Health Worker) and the members of the community. Proper use of the nets was also demonstrated by the health worker.
http://youtube.com/watch?v=ApGm4n92zWM
In total, 170 nets were distributed to both the pregnant and children under five years old. Parents were told in advance to come with their children under five years old while those who were pregnant needed to show evidence that they were pregnant. This was however, difficult to identify women who were few months old. Priority was therefore given to those whose pregnancy could easily be seen. More pictures and information on further projects can be found at Wakitaka Youth Development Group Blog.
In Mawoito, 130 orphaned children received the nets.In Jinja, the organisation Behod distributed the nets to 130 children and youth with special needs. Please click here for pictures of the distribution.
continue reading