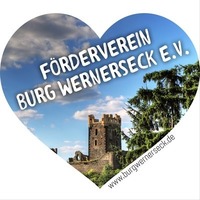 Förderverein Burg Wernerseck e.V.
managed by F. Kohnz
About us
The Friends of Wernerseck castle committed to the preservation of the same name, late medial castle between Ochtendung and Plaidt, Rhineland Palatinate.
There have already been applied more than 350,000 euros for the rehabilitation the donjon and thus secured its preservation. Now it is the cortical wall of the castle, the great cause for concern. Again, as soon as possible should take place a restoration which 860,000 euros will cost. The Rhineland-Palatinate state promotes the preservation of the castle with a total of 500,000 euros over three years. At optimum course of planning, yet 2016 started the first works to maintain the surrounding wall. Now we have the residual financing gap of approximately 360,000 euros to close.
Contact
Raiffeisenplatz 1
56299
Ochtendung
Germany


F. Kohnz
New message
Visit our website