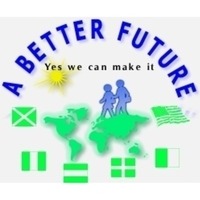 "A Better Future"
managed by I. Mbella
About us
A better future(A B F) is non lucrative, apolitical,grass root organization based in the south west region in the town of Buea-Cameroon. The organization was founded in 2011 in Buea and was legalized in the same year by the competent authority. The objectives of ABF is :
- to promote the use of ICT's
- to promote civic education and participation
- to protect the environment
- to promote community health programs
- to encourage sports and leisure in the community.
The organization operates in conformity with article 7 of law no.90/053 of 19/12/90 relating to the formation and functioning of organizations in the Republic of Cameroon.
ABF has two organs that is the general assembly and the executive bureau. The general assembly is the supreme organ of the organization. The general assembly meets at the end of the year. It approves the reports of activities and financial reports. All registered members of ABF constitute the general assembly and they participate in all the deliberations. All their ideas and contributions are taking into consideration. The general assembly votes the executive bureau. The executive bureau of A B F is composed of:
- President : Ikome Neal Mbella
- Vice president: Hilman Kale
- secretary General: Buma Prutus
- Financial secretary : William Ewule
- Treasurer : Christina Mamua
- Chief WHIP : Tama Lyonga
The executive bureau assures the running of the organization. In fact, the executive bureau is in charge of managing the organization and implementing activities that are planned. The executive bureau is also in charge of creating partnerships, searching for volunteers and fund raising. The organization is hoping to impact lives in the Buea community especially to develop youths and women. Since it's creation the organizations has organized many training, seminars and workshops that have impacted lives in the community. But as of now A B F wants to train youths in information and communication technology because it is an indispensable tool for youth development. From the study of our community, we noted that our youths are in dire need of I C T training.