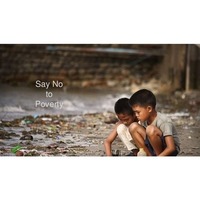 saynotopovrety
managed by i. alca
About us
Hunger and World Poverty

About 21,000 people die every day of hunger or hunger-related causes, according to the United Nations. This is one person every four seconds, as you can see on this display. Sadly, it is children who die most often.
Yet there is plenty of food in the world for everyone. The problem is that hungry people are trapped in severe poverty. They lack the money to buy enough food to nourish themselves. Being constantly malnourished, they become weaker and often sick. This makes them increasingly less able to work, which then makes them even poorer and hungrier. This downward spiral often continues until death for them and their families.
There are effective programs to break this spiral. For adults, there are "food for work" programs where the adults are paid with food to build schools, dig wells, make roads, and so on. This both nourishes them and builds infrastructure to end the poverty. For children, there are "food for education" programs where the children are provided with food when they attend school. Their education will help them to escape from hunger and global poverty.
Hunger and World Poverty Sources: United Nations World Food Program (WFP), Oxfam, UNICEF.
Note: The world hunger map display above is representational only and does not show the names and faces of real people. The photographs are computer composites of multiple individuals.