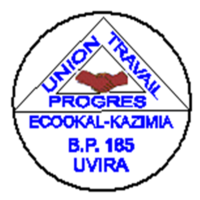 Entreprise Coopérative Kalembelembe "Ecookal"
managed by E. Coopérative Kalembelembe
About us
Ecookal is a Congolese registered non-governmental, non-profit organization and a union of 11 village organized groups of farmers created in 2006 in Fizi/south Kivu in the Democratic Republic of Congo with the core mission to unite farmers by sector, educate and providing them with technical and financial supports to improve their activities (farming, fishing, handicrafts) while protecting the environment and fostering the creation of the community entrepreneurship.
Important information about Ecookal can be found at that network of organizations working in South Kivu province called CRONGD (www.crongd-sk.org)
Our operations are organized into three programs:
1. The capacity building program
Capacity building and training play a key role in ECOOKAL's overall mission to unite farmers and encourage them to work cooperatively, equipping them with the knowledge, skills, and best practices needed to meet today's agricultural and environmental challenges in order to improve their standards of life. The microfinance business training, job skills training, the organizational leadership training etc.
2. The women empowerment program:
Helping women to realize their potential. Developing women's leadership, strengthens women's organizations, increases women's rights and ensures their personal security, and creates new political and economic opportunities for women The Ecookal's work in women's empowerment focuses on three key areas:
• Expanding women's economic opportunities.
• Increasing women's and girls' personal rights and security;
• Promoting women's full participation in political and public life.
3. The Youth program
To address the issues facing young people living in poverty and supporting youth to be active in development and have their voices heard.
4. The Health program
To establish health centers in remote area in order to respond to the health need of the most marginalized people.