NAROK CHRISTIAN LOVE ORPHANAGE CENTER
managed by F. Mogoi
About us
This Organization is registered in Narok under the children care. Is caring for the need in the community for children. It is supported by well-wishers around the community and church members. We established this project for helping groups of people in different need e.g. the orphans, street children, widows and HIV & Aids affected. We are looking the way forward for enlighten the activities carried out by this project. Currently we have 26 orphan children, others attending schools and others taken care of in their homes at the total cost of US$1200. But we don't meet them all the HIV & Aids children. We have current have 20 of them who need more care. Those children are the children their parents died in the result of HIV & AIDS and left them without parents. So we take care of them. They need special care and need food, clothes, medicine drugs like malaria and also shelter for them at a cost of US$2000. (Street children) These are the children who lost their parents and were not able to have a better life from the relatives and as a result they ran out to the street to beg for food and money to make the living . we mobilize them in groups for food, shelter, education and encourage them to study hard for better future. This program cost US$950 which we have half of it. We have here children who most of them are addicted to drug abuse after dropping out of school. We have some seminars to address them to go back to school. Some have come out with a good response to go to school and we support them for the school materials e.g. books, pencils, uniforms and the school fees.
Our project is looking for volunteers to support then for school materials because we don't have enough materials for them.
Currently we are looking the way forward to have a good home because currently we rent an apartment for these children which give us hard time to maintain them. If possible we have to purchase land for building home for them which cost a lot of money where need the support.
The rental cost of the house of these children; we have 18 rooms rented for them at a cost of US$523 per month which is the most burden to us to afford all so that's why are looking for land to build to avoid all these expenses.
We are budgeting to buy the land for building the home for the approx. 5 acres which cost US$17241. Total cost for constructing of one room for the children to sleep, a kitchen and caregiver's house will cost US$27586.
The other needs which is very essential for that home we need to have two toilets which separate boys and girls at a cost of US$ 4595. We need a tank for holding water 6000ltrs for use at a cost of US$1149 and the some funds to buy new materials for them i.e beds, mattresses and blankets.
Latest project news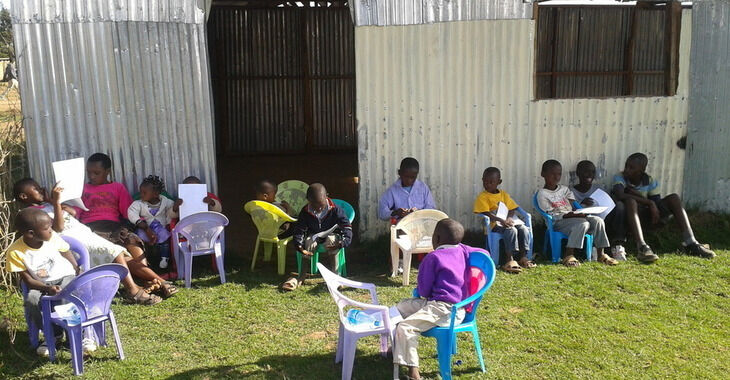 This year joining
This year We are at the position of getting more children to recrude the children in the center of Narok christian love orphanage center.
We are asking for any support from you all. thank you and let us here from you as soon as possible.

continue reading