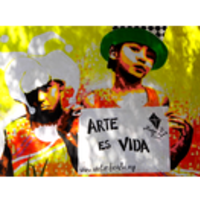 AtelierFavela
managed by Sabine H.
About us
Atelier Favela works in Nicaragua as a humanitarian organization that supports the poverty-stricken children of Ticuantepe, Nicaragua. Through lessons in Arts, Music, Dance, Theatre, Circus and Capoeira at our cultural centre we hope to stimulate personal development in our students. In this way these children can grow up to become independent adults with bright futures in the arts or whatever their passion may be.
Even (young) adults are welcome in our Atelier Favela. They learn how to make hand made products that can be sold, giving them have an honest opportunity to build on their future.
Atelier Favela Cultural Centrum operates completely on volunteers.
Almost 48% of the Nicaraguan population lives in poverty and 17% in extreme poverty, putting the country in the bottom regions of the UN-index of human development. Nicaragua is a country of natural and cultural wealth but, also a country of visible poverty and a population that is still recovering from a period of civil war and natural disasters. Despite this Nicaragua is now known as one of the safest countries of Central America where tourism is still in its genesis, making Nicaragua a hidden pearl between the Pacific and Caribbean Oceans.
Cuatro Esquinas de Ticuantepe, where the new centre of Atelier Favela is located, is a small town between Masaya and the Nicaraguan capital, Managua. The majority of the population live as farmers. People live in small self-built houses with corrugated zinc roofs; sometimes they don't even have a tiled floor and are living on bare soil.
The minimum wage of a Nicaraguan is US$150, -this means that they live off an average of $5 per day, but in reality it is normally even half of that. As in all Nicaragua, there is poverty in Ticuantepe, as well as a high illiteracy rate, with almost 26 % of people in the neighborhood unable to read or write. Cuatro Esquinas de Ticuantepe is still an underdeveloped neighborhood where a lot of progress can be made, progress to which Atelier Favela wishes to contribute with its projects.
All this wouldn't be possible without the great job that the two Atelier Favela's founders, Sabine and Jean, are doing for these children and their community.
Sabine is a visual artist and teacher who studied "Product Design" at the Delft University Of Technology in The Netherlands. She follows the constant development of the organization and she is always generating a lot of exciting new ideas for the projects. She also gives Acrobatics classes for young men and women of Ticuantepe, allowing those who join the classes to better understand their body movements.
Jean Piña, has made travelling his life's study. His years on the road provided him a wealth of experiences, which have made him a vital figure at Atelier Favela. He gives classes in African culture like Capoeira- creating one of the first Capoeira group of Nicaragua- and also African percussion and maculélé, which are his favorite subjects to teach, and which students really like to practice.
Contact
Carretera Masaya, Km 13 Cuatro Esquinas de Ticuantepe 300 metros al Oeste, porton negro, casa rosada
Ticuantepe - Managua
Nicaragua


Sabine H.
New message
Visit our website