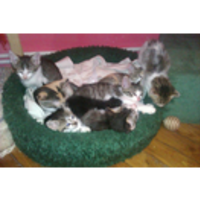 Friends of Cats Association
managed by Linda C.
About us
The Friends of Cats Association is a non-profit, all-volunteer organization in Oradea, Romania, focusing on the rescue, care, and re-homing of abandoned and stray cats. It operates solely on the donations of its supporters and on the work of all those directly involved in its daily activities, with no government or public funding whatsoever.

At the moment, we can provide a temporary home for 40-50 cats, consisting of several rooms where they can roam freely and have access to enclosed outdoor pens. All the cats are treated, vaccinated, sterilized, and then put up for adoption. A lot of time is spent making the new cats (especially those who have been abused, or the feral ones) get used to the presence of human being and earning their trust.

Its Mission
*Provide a temporary no-cage, no-kill sanctuary for feral and abandoned cats and kittens in Oradea;
*Facilitate the adoption of cats into safe, loving, healthy and permanent homes;
*Make the the local community aware of the role they play in reducing the stray cat population in our city and in improving the overall quality of animal welfare.

Since its founding in 2010, The Friends of Cats Association has saved over 150 cats.