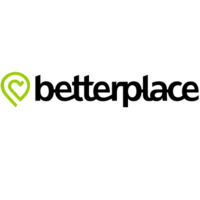 betterplace.org (gut.org gAG)
managed by Björn L.
About us
betterplace.org enhances the social sector - due to easier donation possibilities and new target groups. Makes it more efficient - due to reduced fundraising and administrative costs for the aid organisations. And more effective - due to more transparency and more evaluation mechanisms of the projects. In short: betterplace.org - the do-gooders in Web 2.0.

Behind this is the "gut.org gemeinnützige Aktiengesellschaft" (gAG). Although it is a corporation, it is a non-profit one: this means that none of the shareholders has a financial return intention. No money can be made from trading the shares either. The gut.org gAG is the foundation on which betterplace.org grows and thrives. What else is growing and thriving here besides betterplace.org? The "betterplace lab", our research department so to speak, the bUm, our space for solidary togetherness in the middle of Berlin-Kreuzberg, and the "betterplace Solutions" - our agency for better social engagement of companies.
Latest project news
Wir haben 26.416,12 € Spendengelder erhalten
Liebe Unterstützer*innen,

Tausend Dank für die wunderbare Unterstützung unserer Arbeit! Auch das letzte Jahr hat die Welt wieder vor große Herausforderungen gestellt: der Angriffskrieg gegen die Ukraine, die Klimakastastrophe oder die Dauer- und Spätfolgen der Corona-Pandemie - um nur einige zu nennen. Um darauf mit unserer Spendenplattform bestmöglich reagieren zu können, haben wir unser Team weiter verstärkt. Insbesondere in den Bereichen Support und in der produkt-technischen Entwicklung sind neue Mitarbeiter*innen dazugekommen. Durch die weiterhin steigende Nutzung unserer Plattform sind auch höhere Infrastruktur-Kosten entstanden, so haben wir zB unserer Server-Architektur an die erhöhte Nachfrage angepasst. Und auch wir sind von den generellen Preissteigerungen in den Bereichen Energie und Versorgung nicht verschont geblieben. Durch die große Anzahl neuer Kolleg*innen mussten wir zudem unsere Bürofläche vergrößern und das obwohl viele von uns weiterhin bzw. regelmässig remote arbeiten. 
Im Ergebnis konnten wir aber viele Tausend Organisationen mit einer Spendensumme von insgesamt mehr als 48 Mio. EUR unterstützen - großartig! Ermöglicht durch Hunderttausende Spender*innen, die betterplace.org genutzt haben. Vielen, vielen Dank dafür!
Um auch weiterhin einen sehr guten Service für Spender*innen und Organisationen zu ermöglichen und eine stabile und sichere, technische Infrastruktur bereithalten zu können, arbeiten wir weiterhin intensiv an unserem kostenlosen Angebot. Wir bedanken uns recht herzlich für die Unterstützung dieser Arbeit, die wir als einer der wenigen Anbieter in einem gemeinnützigen Kontext realisieren. Eure Spenden machen das möglich und wurden entsprechend der gelisteten Bedarfe für Miete, Personalkosten, technische Infrastruktur sowie Fortbildungen für Organisationen eingesetzt.

Nochmals vielen Dank dafür!

Euer betterplace-Team
continue reading
Contact
Schlesische Str. 26
10997
Berlin
Germany


Björn L.
New message
Visit our website