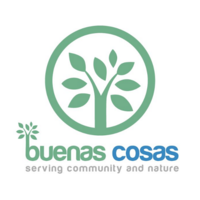 Buenas Cosas
managed by B. Cosas
About us
Buenas Cosas opened November 2011. Our first year we provided 6,820 kilometers of bicycle tours, 512 hours of English classes, planted 360 trees and 242 organic veggie gardens, raised 36 chickens and 5 goats, brought hundreds of participants from 28 different countries into Buenas Cosas' Partner Communities, benefiting 1500 Guatemalan families and dozens of locally-owned small businesses.

During its first year, Buenas Cosas removed more than a ton of garbage from our Partner Communities, opened two new Community Centers, provided the first non-profit ecotourism trips to Tikal, El Mirador — and, of course, our secret spots all around Lake Peten Itza. With the support of our Partner Communities and hundreds of participants, Buenas Cosas' first year was a success.

Buenas Cosas is a cooperative of Guatemalan women, a registered Guatemalan non-profit and a pending 501(c)3 — an association of family, friends and neighbors who serve their community and nature. Every cent that enters Buenas Cosas goes directly to communities, programs and projects that cultivate Good Things, Buenas Cosas.
Contact
Apartado 37 Correo Santa Elena
17029
Santa Elena
Guatemala


B. Cosas
New message
Visit our website