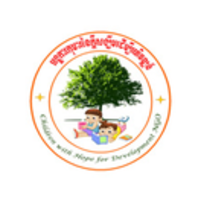 Children with Hope for Development
managed by Sokha T.
About us
1. Overview - About "Children with Hope for Development":

"Children with Hope for Development" (CHD) is a grass roots Non Governmental Organization (NGO) in Cambodia with no religious or political ties which provides children the opportunity to attend a FREE school.
CHD was founded in June 2010 by Mister Sokha Treng and is supported by his cambodian friends who are volunteer teachers at the school.
The organization is based in Po, a small village in the rural area of Takeo Province, approximately 94 kilometers from the capital city Phnom Penh.
Most children in Po Village come from poor rice cropping families. Attending a free school improves their educational skills and gives them the opportunity to break out of the cycle of poverty.
The vision of CHD is to improve the children's confidence and to strengthen their feeling of self worth in order to give them hope for their future.

2. History and Background – Reason Why

Cambodia's history is one of civil war and political disruption. Especially with the genocide of the educated class by the Red Khmer in the 1970´s the country and its people have lost much.
The people are still suffering from the trauma of the civil war and there is a high level of inter-generational posttraumatic stress, mental illness, alcoholism and domestic violence.
After years of conflict Cambodia is now a developing country and the GDP is slowly increasing. But still 85% of the population work in rural agriculture and are struggling to reach an income of US$1 per day.
Finding work in other areas is hard and depends on the education level and skills. This is why it is fundamental to enable today's children to get a better education so that they can more easily find a good job.
For many families in rural areas it is difficult to offer their children education because they cannot afford the transportation to remote schools. Often they have to ask their children to stop studying and contribute to the family income by doing unskilled work (such as animal raising, garbage collection or rice planting).
Po Village, in Takeo Province, and the surrounding community is one of these rural areas where children of poor families live in economically underdeveloped circumstances without hope for education.
This is why the director and founder of "Children with Hope for Development" (CHD), Sokha Treng, decided in June 2010 to build up a school project in Po Village, where he lives. He is convinced that education helps children and their families to make positive changes in their lives and empowers the community.

3. Activities of the CHD School

Children with Hope for Development was founded on 29th of June 2010 and obtains authorization of the "Ministry of Interior of the Royal Government of Cambodia" by paper No. 974 as organization named "Children with Hope for Development" (CHD).
The CHD School is located in Po Village (Takeo Province) and offers free education and study material for over 300 children (from 6 to 17 years old) from the surrounding community.
School classes take place in the afternoon. This ensures that all children - who attend the state school in the morning as well as others who are not able to attend state school - can visit the free CHD classes together. By bringing more education to children who come from poor families CHD aims to reduce discrimination.
CHD School provides mainly English classes, since this language becomes more and more important for all business sectors in Cambodia. To ensure basic education there are also classes in Khmer Literacy and Math.
Furthermore the CHD Organization is constantly networking with other national and international organizations to gain more experience and partners.

4. Current Status and Plans of CHD

Currently the school is located on the land rented from a local family. It has only one classroom and is built out of some stilts and a roof (no door and windows).
During rainy season it is sometimes impossible to run the classes since the building cannot stand the rain.
To ensure that the CHD School can be operated independently and continuously also during rainy season it is important to have an own ground and a proper school building.
With the help of donations it was already possible to purchase a private school ground in January 2013.
The next step is to build a proper school building (during 2013), which also includes basic washing facilities and a toilet.
Latest project news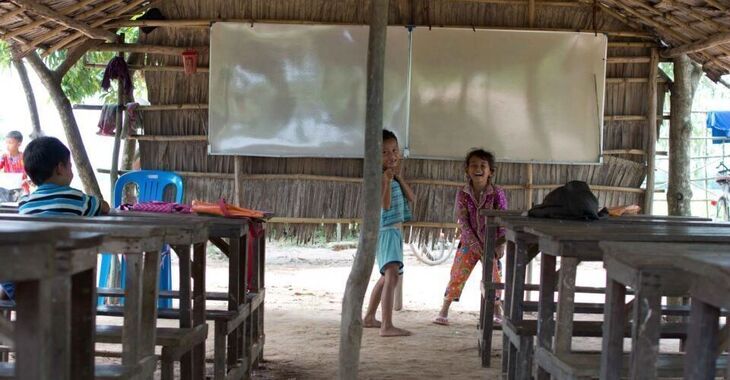 Für diese Bedarfe habe ich eine (Teil-)Auszahlung veranlasst:
Dear Betterplace,

The donation from Theresa will go toward to help to build a new school. Hope the request payout will be done soon.

Please transfer to  CHD account

Account with Institution
CANADIA BANK PLC.
315, Ang Duong St.
(corner of Monivong Blvd) Phnom Penh, Cambodia.
SWIFT: CADIKHPP
Bank website: www.canadiabank.com
Beneficiary
Account number : 0280000016187
Account name : Children with Hope for Development


Thanks
Sokha
Best regards



Es wurden 275,00 € Spendengelder für folgende Bedarfe beantragt:
Barbed Wire for the Fence 275,00 €
continue reading