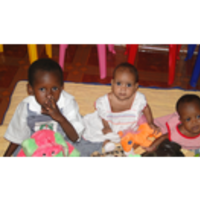 Living Fountain Project
managed by Lillian M.
About us
Living Fountain Care Point is a small project of a 15-member Self Help Group of volunteers working towards alleviating the problems of abandoned and vulnerable children within the community of Mombasa and its environs. The Group is running a Children's Home and providing care to abandoned children who would otherwise never know the comfort of a family. We are inspired by love and humanity, and the fact that loving, kindness and compassion are the basis for powerful actions that can really make a difference in our lives and the lives of others.
We are committed to providing effective, holistic life-changing services to these children, a task that requires a lot of sacrifice, patience, selflessness, passion as well as adequate resources. We at Living Fountain may not have the resources, but we have what it takes to offer love and a caring family environment to our children. However, we need to keep the project alive and to be able to reach out to more children.
In the words of Mother Teresa "There are many in the world who are dying for a piece of bread, but there are many more dying for a little love". Nobody can do everything, but everyone can do something. I would like to invite you all to join us in providing quality services-food, clothing, health, hygiene, etc to those we so much care for. Together, with great love we can make a huge difference in the lives of these little angels and restore their silent, shattered dreams. Let's go the extra mile for God's children and give them the opportunity to know love and to have a future that blossoms out of such bleak beginnings!
Latest project news DONATE NOW...we need your help
We would like to say a big 'Thank You' to all our friends and well wishers who have continued to stay close to this project over the last 2 years. Many of you have written to us , appreciating our efforts and encouraging us to keep up the work of giving these children a home, a family and hope. Others have come to pray with and for the children. Numerous times we have received material support- food, clothes, shoes....everything that you gave DIRECTLY touched on the children. May God bless you and enrich your hearts to think of the less fortunate even more.

As the kids continue to grow, we are already facing the challenge of enrolling them in school. In addition to the 3 already in school, we expect Angie, Divine and Faith to start school next January. With your help this responsibility will not be so huge, and while we shall endeavor to do our best in providing the necessary support for their education, I am making this passionate appeal to anyone who cares to come in and sponsor the children's education. Remember nothing is too small to make a difference and God always blesses the heart and hand that gives.

Please join us in this journey of compassion for these children. Sometimes you may just be surprised to learn that the little things that do not seem to matter in your own life or to your children could mean the whole world to an abandoned child. Next time you go shopping and wonder where you will keep your change, just remember that a child is waiting to get shelter, food and education. We hope to see some donation in the coming months, and to build strong relationships with  each and every friend and fan of our page. Thank you for reading this and I look forward to your support. 

continue reading