How do I integrate an external donation button into my own website?
You registered a project on betterplace.org and would like to draw more attention to it? Connect your betterplace.org-project with your own (organisation's)-website. You can easily do it by integrating the betterplace.org-donation button. Via the donation button every visitor gets to your organisation's profile on betterplace.org and has the chance to donate to your organisation or to directly fund one of your projects by just one click.
With only a few clicks you can integrate the external donation button on your website. Simply follow the steps:
Log onto betterplace.org, go to "My betterplace" an visit your organisation's page. Click on "embed donation button external" in the navigation bar on the right side. Now you can see a source code on the left hand side of the donation button. Copy this source code, which begins with "<iframe", and imbed it into the desired location of your own website. Done!
And that is how it looks: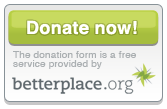 This donation button can also be imbedded on your facebook-page. See here how it works.