How do I inform my donors about project news?
It is very important to keep your project page updated. You can publish recent project news in the "News" section of your project page.
⌲ What is the "News" section of my project page?
In the "News" section of your project page you can publish and spread information about your project. It is highly recommended that you regularly inform your supporters about the current state of your project, the progress you have made so far and your future plans. Photos and video can be used to make your posts more attractive. The goal ist that your supporters see the impact that their donation has and are therefore much more likely to keep supporting you.
Whenever you request a donation withdrawal you are required to write a brief message that explains how this money will be used. Transparency and accountability are highly seen amongst supporters. These posts are also published in the "News" area of your project.
Your news entry could look like this: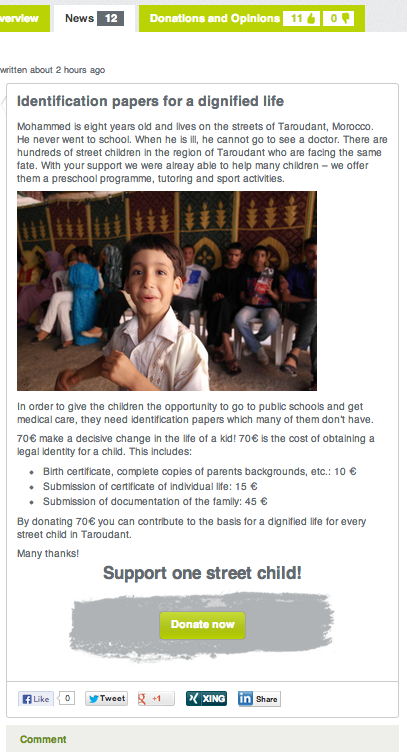 Don't forget: the "News" area is not a one-sided communication tool. It can be commented by all registered users. This is one of the main characteristics of the social web. Show tranparency and answer comments – your donors will highly appreciate your reaction. Find helpful advice on how to write a vivid and illustrative newsletter here: Writing exciting news – how it works!
⌲ You have something to tell? Then publish your news on your project page!
Log in on betterplace.org, click on "My betterplace" and choose your project. In the "Administration" area you find the link "News" which directs you to a list of all your current news entries. Click on "Write news" to add your entry.
Please note that you can only write a German newsletter, if you also have a German project description. In order to add a German project description, choose the "Administration" area on your project page and click on "Description".
If your project is published in two languages, you can determine the language by shifting the toggle button in the editing window of your present news entry to "German" or "English". Depending on the language your supporters have chosen to use betterplace.org, they see different entries in your "News" area.
To make your news entry more vivid, include extra material like photos or videos. Photos can easily be uploaded in the picture gallery on your project page and afterwords be added to you news entry. Your video can be inserted by embedding the Video-URL.
⌲ Use specific calls to action in your news
Write your news with very clear call to actions. After reading your post, it should be completely clear to them exactly what you request or expect from them. This is an essential point to mobilize your supporters. Do you need more donations to complete your project? Do you want them to check out the new pictures that you just published? Do you want to invite them to an event? Then formulate a call to action ("Donate now", "Watch the pictures", "To the registration") and choose to add a button for your call to action with the corresponding link. You can link any section of your project in betterplace.org but also any other relevant webpage.
You are ready to go! Just click on "Publish". Do you want to edit something? No problem, just click on "Edit".
Don't forget that you can also send your news to all of your donors as a newsletter (via email).