Get started with betterplace.org
After publishing your project successfully on betterplace.org, it is now time to get started! We recommend the following steps (please make sure you are logged in ):
1. Prepare your project page
Before you start fundraising, make sure that your project page on betterplace.org is activated.
All these information can be edited in the administration section on your project page. This blue area is only visible if you are logged in and only if you have full management rights.
2. Integration of online fundraising tools in your homepage
betterplace.org enables you to receive donations online via direct debit, paydiekt, PayPal and credit card. You should definitely integrate these options in your homepage! If you do not have your own homepage, please skip to 3. There are three fundraising tools that you may integrate in your homepage: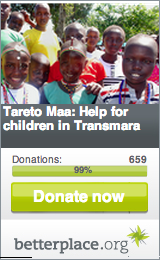 The project widget is a kind of banner ad that you can integrate in your homepage. The widget shows the title and the project photo as well as its current status of donors and received donations. Furthermore, it encourages to donate. If a visitor of your homepage clicks on the widget, he/she will be directed to your project page on betterplace.org, where the donor gets information about your project and can donate immediately.
You can find the code to integrate the widget on your homepage on the bottom of your project page on betterplace.org. Click on " website widget" below the heading " help to spread this project". Now you can copy the code and place it on the desired position on your homepage. If you have any problems doing it yourself, please ask you webmaster of your homepage for help!
⌲ The integrated donation form
Alternatively, you can also fit the integrated donation form in your homepage. Using this form, all donations will be directly transferred to your project on betterplace.org - this time, the donor doesn't even need to leave your homepage.
To integrate the donation form in your homepage, please visit your project page and click on the blue tab " Administration". Now choose 'integrated donation form' on the left, copy the code and fit it into your own website. Please note that the form uses javascript - the execution of javascript codes needs to be possible on your homepage.
You can also integrate the donation form in you Facebook page (for organisation). See here, how it works!
⌲ The external donation button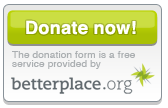 If you have registered an organisation and more than one project on betterplace.org, the external donation button might be the perfect tool for you. The donation button can be displayed anywhere on your website and directs the donor to the donation form on betterplace.org. All received donations will go to your organisation profile. Starting from that profile, you need to forward the received donations to your projects.
You'll find the code for embedding the button in your website on your organisation profile. Choose ' edit organisation' and ' embed external donation button'. Copy the code and fit it in your homepage.
3. Tell your supporters about your new online donation option
Now, it is time to tell your network about the opportunity to support your project by donating online. Use mailings, newsletter, your blog or your Facebook page to inform everyone - the more people know about your engagement - the better. You will see that especially young people love donating more transparently via betterplace.org
⌲ Reports in local media
Local media (newspapers, television or radio) report constantly about projects that help the community. Try to get them make a report about your project. Ask the journalists to communicate the link to your project page. This ensures that potential supporters find your project easily and makes it very easy for them to donate right away.
**!! Important: ** Your project will only appear in our general search after reaching the status of having at least 5 donations and 250 EUR. Therefore it is very important that, especially at the beginning, you always communicate the direct link to your project page. Remember that you can always find your short-URL (a shorter version of the link to your project page) in the administration area of your project.
4. Promote offline
Use our new poster to spread the word offline! You can easily download your project poster in the administration area on your homepage.
5. Say thank you and make your progress visible
If you have followed the first steps, you should have received the first donations. If so, you will be informed via email. Moreover, in the ' Administration' area on your project page you find the link ' transaction protocol'. There you have an overview about who has donated which amount to your project. Registered user can be contacted directly to leave a Thank you message.
You can also thank your donors publicly by publishing a news entry in the 'news' area on your project page. Tell what you'll do with the received funds and give an inside about the project. Visual impressions are great: upload photos showing the progress or embed videos in your next news entry. In doing so, all your donors are able to follow the progress and some of them might be encouraged to support you once again or even on a regular basis. Maybe they even start their own fundraising event at their next birthday in order to support your project?
We wish you most success!
For more tips and advice, please check out our FAQ
If you have further questions, please do not hesitate to contact our support team
E-Mail: support@betterplace.org
Telephone: +49 30 76 76 44 88 – 42