Win back your givers by keeping them up-to-date
If you want to gain the long-term loyalty of your donors you need a convincing strategy – and authentic and personal communication. On betterplace.org supporters can experience your project: By posting news and adding pictures or videos, you can instantly provide your supporters with updates on the progress of your project. You can also segment your donors and send a customized newsletter to each group in order to encourage them to donate again. You will profit from the efficiency of our communication system. And your givers might want to donate again, again, and again...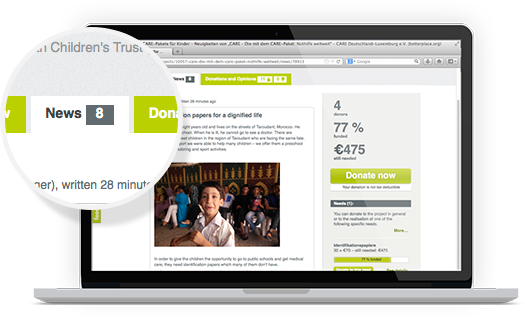 ---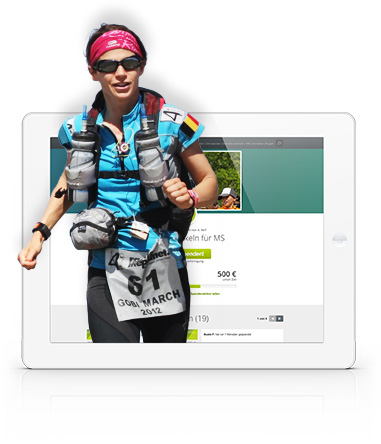 Turn your donors into fundraisers
Being a fundraiser can keep you busy. So why not getting fundraising support from your givers? On betterplace.org, they can create a fundraising event for your project. For example, your supporters might wish donations to your project instead of receiving birthday gifts, or they run a marathon and collect donations. Your donors can also help you finding new supporters by sharing your message via facebook, Google+, or twitter. This might save you a lot of time.

betterplace.org for social initiatives
Our free services at a glance
Credit card, PayPal, and direct debit as payment methods for donations
No transaction fees for donations with credit card and PayPal
Donation form and widget for your own website: Learn more!
Donation button for your organization on Facebook
Overview of all donations with comments, local reports, and the donors' opinion on your project
Customizable newsletter system to help regaining donors
Automated sending of donation receipts on behalf of German NGOs that have a notice of exemption
Extensive statistics, analyses and administration tools
Export of donor data
Direct contact to donors
Fundraising event pages for your supporters
Innovative sharing tools (QR code, posters, etc.)
Support hotline on weekdays
Trainings on online fundraising
Our mission: Helping you to help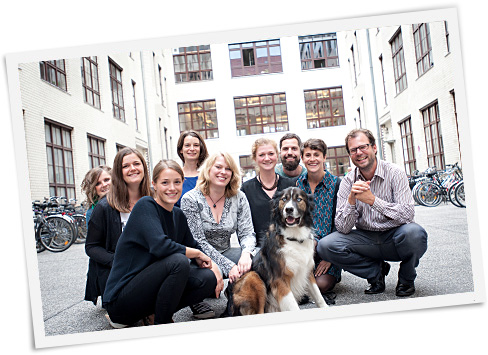 betterplace.org is not profit-oriented and therefore offers all services free of charge. We do not want to sell you anything. Our only wish: create as much transparency as possible for the giver – by describing exactly what you need, for which purpose you will use the donations, and by telling your donors which impact their donation has had. We forward 100% of all donations to you. On top of that we cover the transaction fees for you.
So how do we finance ourselves? ➞
We are also happy to support you with trainings, tips on collecting donations online and trends about online fundraising. We want you to be successful with your fundraising! And if you successfully collect donations we will introduce you to our corporate and media partners – and thus to many potential new supporters of your project!
"Why should I collect donations online in the first place?"
2.5 Billion people are online
In average, online donations are about twice as high as offline donations.
People donating online are much younger than people donating offline.
Communicating with your donors online costs much less: no paper and stamps are needed!
Spreading the news online is the fastest way
More than 5,000 organisations already use betterplace.org successfully. When will you join?
This is what project managers say about us:
betterplace is the place to be! Direct and transparent communication with our supporters makes our projects come to life and corresponds exactly to the philosophy of Viva con Agua! Christian Wiebe
Viva con Agua
We from CARE have to go where our potential donors are: at betterplace.org, facebook, or YouTube. betterplace.org provides us with great fundraising tools, initiates cooperations, and overall, is a benefit for our organisation. Stephanie Nicolai
CARE Germany and Luxembourg