How to embed your volunteer opportunity banner in your homepage?
Embedding the volunteer opportunity banner in your homepage is really easy. Just follow these simple steps:
Log yourself in. Go to "my betterplace.org" and directly to the administration area of your volunteer opportunity. There you will find, on the left side, the menu item "Add to your own website".

Hier you can choose the size of the widget (form 300 to 900 Pixel) and the colour of the button. Click on "Apply" to see a preview of your banner.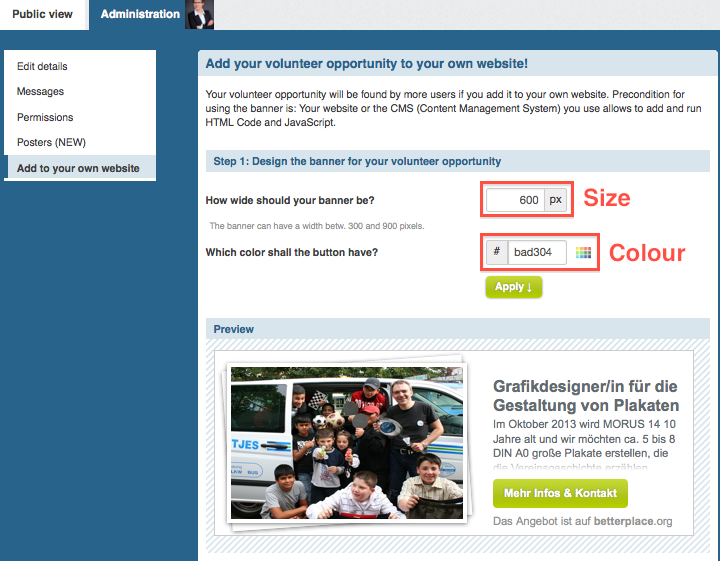 In the textbox beneath you will find the source code for your banner. It starts with <script type="text/javascript">. Mark and copy the whole source code and paste it wherever you want it to appear in your homepage.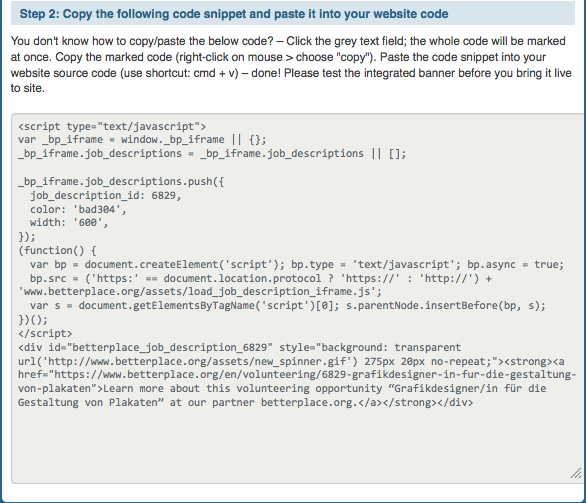 You can also integrate the banner in your Wordpress-blog. If you have any problems, you can find a useful instruction how to integrate iframes in wordpress here.
How does the integrated volunteer opportunity banner looks like? Hier is an example: "Hand in Hand Patenschaft e.V."

If you have any further question please write us an eMail or call (__+49 30 76 76 44 88 - 42 ) our "Project and Organisation" - Team.